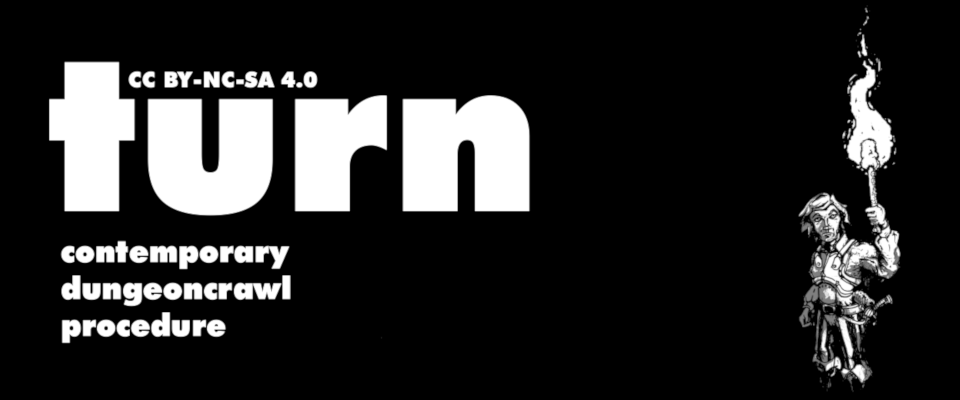 TURN
A trifold pamphlet for tabletop role-playing sessions or campaigns.
TURN is a reference for tabletop game players and referees who use the randomized dungeoncrawl procedure (often called the 'hazard die' or 'event die') originated by Necropraxis. It is also an introductory work to explain the function of the event die, with respect to earlier paradigms of the dungeoncrawl that involved more stringent turn-keeping and note-taking.
The function of the event die is to simulate the book-keeping of classic dungeon crawl games via random rolls. In doing so, it encapsulates in one table the totality of the classic procedural dungeon crawl: i.e., random encounters, resource management, and countdowns for spells and light sources. Only one of these events was randomly determined prior to the innovation of the event die. The rest required stringent time-keeping and note-taking.
Each turn taken risks any one of the six now-random outcomes, each posing an obstacle to the adventurer hopeful for treasure underground. Some events are, of course, more costly than others. Regardless, the more time you spend in the dungeon, the more resources you expend and the more harm you risk to your character's self.
TURN is totally abstracted from other typical features of classic D&D games, retroclones thereof, or old-school inspired rulebooks. There is no mention of hit points, ability scores, saving throws, et cetera. This allows the user to freely implement it in a larger system of their choice, regardless of how they handle other situations such as combat. This also makes TURN compatible with MOSAIC Strict texts and materials (link).

Inspired by Necropraxis (link) and Errant (link). Art by Gus L. of All Dead Generations (link).